A brief recap of my theory for those new to this blog…
There were queens and princesses in Judea in the time of Jesus.
They were of the Jewish royal house, the House of the Hasmoneans, the Maccabees who had ruled since about 160's B.C.
Mariamne I, the Great (Hasmonean) Queen, was married in a political alliance to Herod so the Roman-backed procurator could carry the title of King of the Jews.
Mariamne was a dynastic name of royal women in Judea during Jesus lifetime.
Herod had Mariamne I killed but built for her a grand tower on his new palace wall and called it Mariamne Tower...the word for "tower" is "magadan" or "magdal".
One of the granddaughters of Mariamne I was Mariamne III…She may well have been called the Magdalene. Mariamne Magdalene meaning she was of the "tower" lineage of the Great Queen. Another meaning for "magdal" is "great." So…Mariamne I the "great queen" could also have been called Mariamne the Magdalene.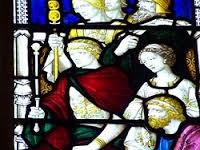 ---