Actually, while looking at the connections to the Beze's I had wondered more about the family of Chérisey. I had recently been told that Chérisey found something out from his Grandfather, and it was this which led him to become embroiled in the saga of Rennes-le-Château.
As point of fact Chérisey's family certainly were illustrious. The first ancestor that we know of is Nicolas I de Chérisey. A descendant of this Nicolas was Nivelon de Cherisey. Nivelon had been a Bishop of Soissons, with a very important role in the 4th Crusade. He brought back, from Constantinople, the relics of the martyr Saint Stephen, and gave them to the church in Chalons-sur-Marne. The brother of Nivelon, and a direct antecedent of Phlippe de Chérisey, was the famous Henri de Chérisey. Henri (along with his son Renaud) were companions in arms under the Count of Bar (Henri of Bar, born 1158, died October 1190 in Acre, was Count of Bar, and lord of Monsoon and Amance from 1170 - 1190. He is the son of Renaud II, comte de Bar, Seigneur de Mousson and Amance, and Agnes of Champagne. Through his mother, he was cousin of Henri Philippe Auguste, King of France) Henri died during the siege of Saint Jean of Acre on 19th July 1191. Later descendants carried such official ranks as Chamberlain to the King (commanding the forces of the duchy of Bar in the absence of Duke Edward III in 1402, commander of the guards of Charles IV, duke of Lorraine and so on).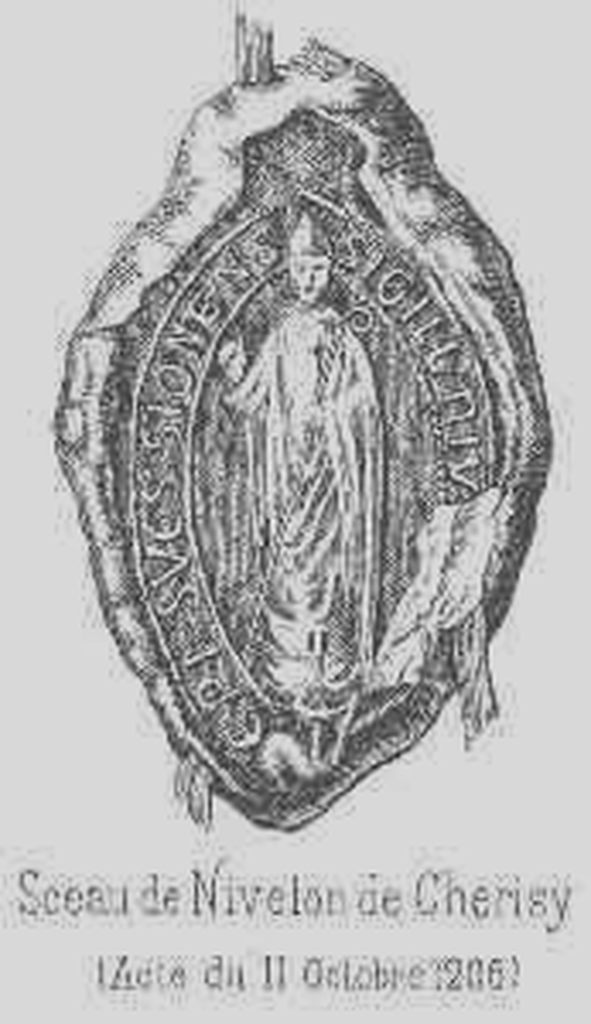 The first Marquis de Chérisey was so named in the 17th century.
A Marquis is a nobleman ranking below a duke and above an earl or count. And Chérisey is actually a commune in France, to be precise Moselle, Lorraine.
The area was successively named in acts of 775, Carisiacum, a Latin name which will remain until the xiiith century and it then evolved in historical writing over the centuries to to Cariziacum (993), Carisicum (1179) Cheriseum (1190) Charrixey (1219), Cherrexey (1292), Cherrixey (1301), Charizeum (1307), Charixey and Chariest (1325), Cerisey Cheresy - Cherexey (1369), Charexey(1420), Charrixey (1423), Cherrezey (1430) ...to take its final name in 1667.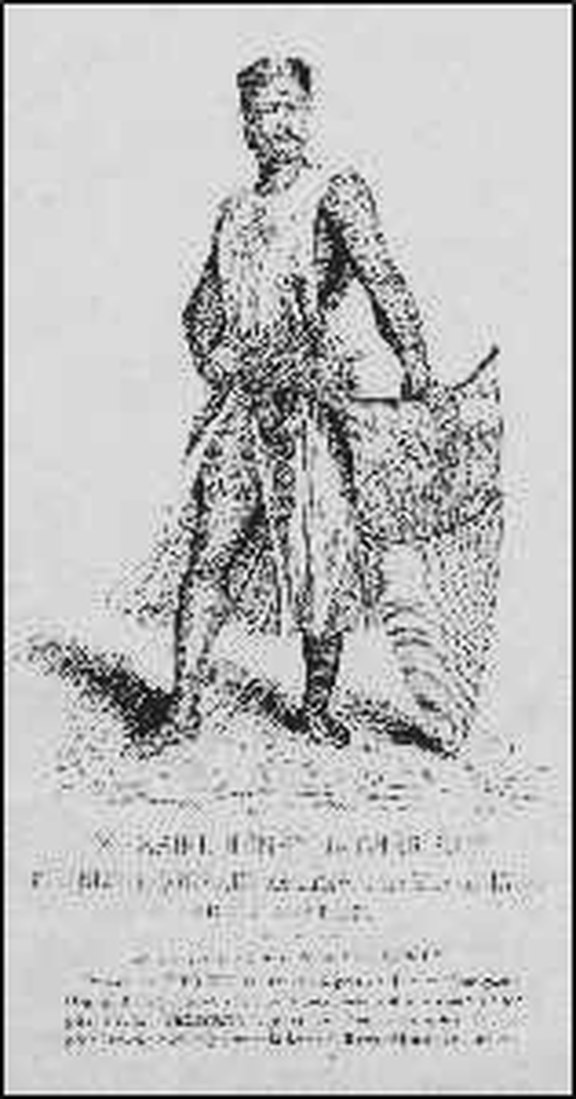 Above - Henri de Cherisey

Some important landmarks in the history of the commune of Chérisey are as follows:
In 775, Chérisey was donated by Fulrad to Saint-Denis.
Chérisey was also linked to the priory of Salonnes. (The priory and church were founded in Salonnes by Fulrad, abbot of St. Denis, who lived under Pepin the Short and Charlemagne. By this time the body of St.Privat, Bishop of Mende, was resting in this Priory. The abbey of Saint Denis will be the owner of the priory until the year 815, when it yields to the abbot of St. Mihiel.
In 896, Charles the Simple made donations to the monks in 950.
And in 1106 Pope Paschal II confirms the independence of the Priory in jurisdiction of the diocese of Metz. For nearly eight hundred years, the Benedictines rule the priory.
1112: The Noble Cunegonde gives the Abbey of Saint Arnulf to Chérisey. This was where the family necropolis of Charlemagne was: his wife Hildegarde, her sisters, her son, Emperor Louis the Pious and also Bishop Drogo were buried here. Cunegonde herself would appear to be of Carolingian blood.
1143: Dedication of the Church by Theodwin, Bishop of St. Rufina, legate of the Holy See.
1219-1220: Existence of a Castle founded in the xiiith century. According to the treaties of 1219 and 1220, made between the Duke of Lorraine and Count of Bar, with Daniel, abbot of Saint-Symphorien, Renaud de Chérisey, son of Henri de Chérisey, Jeoffroy and Apremont are co-dedicated as property (owners?) of Saint-Symphorien Abbey. The castle was rebuilt.
Etienne Gerard, Sebastien, Louis, Rene de Cherisey (son of Frederic de Cherisey and Marie Bethe Leroux du Chatelet) was born in 1863, and died 05 Dec 1947aged 84. He married Louise Marguerite Noel du Peyrat on 24 Oct 1896 in the church of St Pierre de Chaillot, Paris, daughter of Herve Noel du Payrat and Marie Angeliique Jeanne du Bignon. This was Philippe de Chériseys grandfather.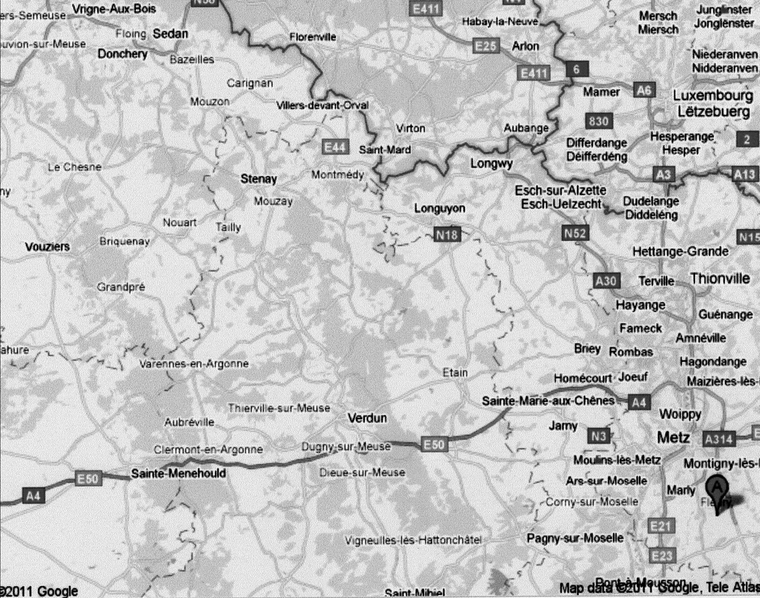 Is it any wonder that Chérisey, if he is the author of all the Lobineau documents and 'Saunière' parchments, picked such themes as the First Crusade, genealogies of the Lorraine nobility, Dagobert II and Stenay as well as Orval for his creation myths?

In the above map, from Google Maps, the 'A' logo is the land of Chérisey and its environs. Its an area rich in history and which involved Philippe de Chérisey's direct ancestors. I have highlighted Stenay to show its close proximity to Chérisey.

A little digging on the Internet by myself also found this on Philippe de Chérisey's ancestry (and shown here for interest purposes only!). This is one of the blazons of a family member of the Chérisey clan: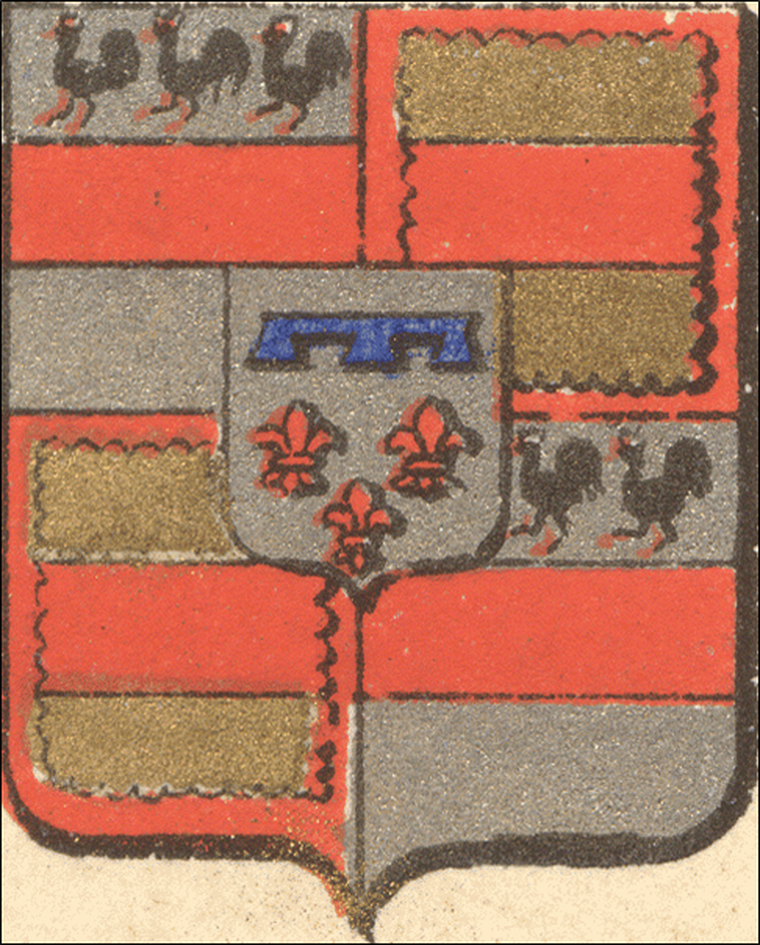 I must admit I did smile when I saw the blazon - Chickens -poussins? hautpouls? Other curious details: Jean de Chérisey's (1583-1628) mother was called Jeanne d'Orthe, and her father was Jean d'Orth. A curious echo of the Archduke John Salvator of Austria—later known as John Orth., who is said to have visited Saunière.I noted also in Chérisey's family history that there had been some marriages on the 17th January. A coincidence I am certain! (see below);

Jean de CHERISEY (1583 - 1628 ) Born 15 mai 11583 , Décès 8 fév1628 .
Père  Christophe de CHERISEY, n. Env 1562, d. 18 nov 1620 , Mère; Jeanne d'Orthe, d. Après 1621 .Mariage  24 fév 1582  château de Falaise;Ardennes
Olimpe de CHERISEY n. 27 juil 1614, Metz d. 18 jan 1674, Metz,Moselle,France 2. Jeanne de CHERISEY, n. 15 mars 1616, d. Après 1681; 3]. Nicole de CHERISEY, n. 3 déc 1617, d. Après 1681 4. Charles de CHERISEY, n. 28 nov 1621, d. 28 nov 1692 5. Anne Elisabeth de CHERISEY, n. 1625, d. 2 oct 1670, Jeanne d'Orthe 1622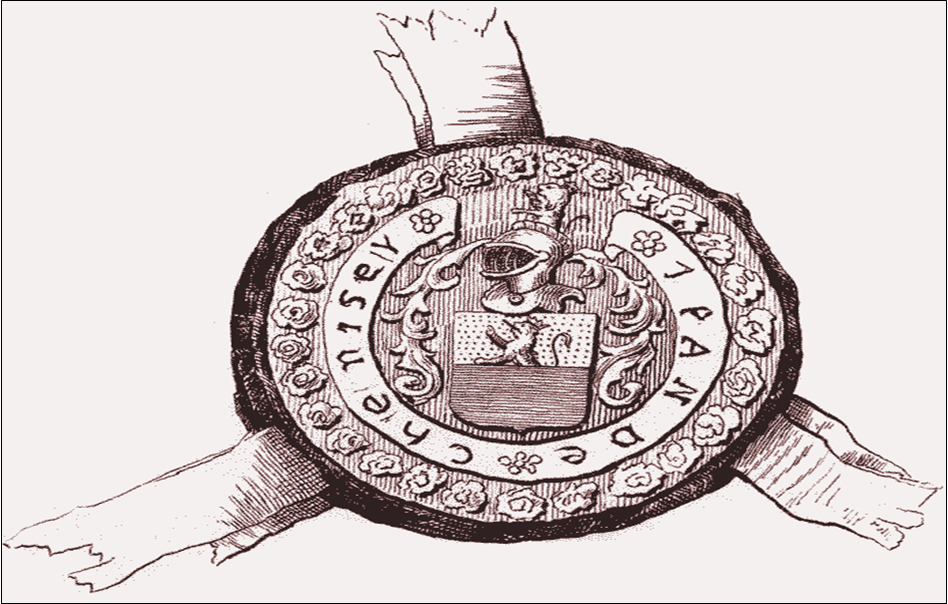 Above—seal of Jean de Chérisey - Chevalier Jean de Cherisey Coat of Arms of Chérisey - Coupé d'or au lion issant couronné de gueules, et d'azur
http://www.genealogie-lorraine.fr/info/blasons_57.php?blason=CHERISEY Ce sont les armes de la famille de Cherisey, d'ancienne chevalerie.